Unravelling the Disclosure Documents
$40.00 + gst Buy now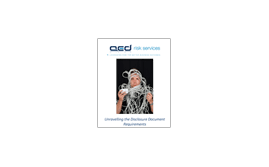 Are you confused with what to do for your NCCP disclosure documents? Then this is the guide for you!
The documents you need to provide to consumers are:
Credit Guide
Credit Quote
Credit proposal Disclosure Document
This simple, no-nonsense, 3 page guide walks you through what the requirements are for each document and the timing of when you need to provide them to consumers.
This guide focuses mainly on finance and mortgage brokers, it's concise and to-the-point. Just what you need to relieve yourself of the confusion! The best $40 you'll spend this month for sure!!
QED guide for NCCP disclosure documents: QED Risk Services has released its no-nonsense, straightforward guide for mortgage brokers to understand the NCCP disclosure document requirements, that must be complied with from 1 October. This simple, 3-page guide explains all the important facts a broker needs to know about how to comply with the requirements.