ACL Credit Licence and NCCP Compliance Products
At QED Risk Services, we understand mortgage brokers.
At QED Risk Services, we are all about your business. If you are short of time and would like to get on with writing businesses, QED can look after your ACL application including liasing with ASIC on your behalf.
However, we've also created the ACL Application Kit as a DIY option to assist mortgage brokers to apply for their own Australian Credit Licence.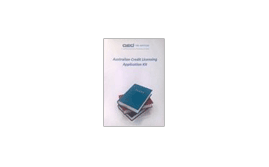 If you are a self-sufficient business person and prefer to create your own policies, QED Risk Services' ACL Kit is the perfect partner for you. The Kit will provide you with all the information you need to successfully submit your own ACL application with ASIC, as well as all the templates for creating the required policies and procedures that ASIC will likely ask for from you during the application process.
Already have your Credit Licence?
Then you still need to take measures to keep it! Take a look at our NCCP Compliance Service - CompliFast.

QED CompliFast is an online compliance program to ensure 100% NCCP Compliance. It provides 8 MFAA CPD Hours per year, it's easy to use and will give you the confidence that you are meeting all your ASIC obligations, not just some of them.
Want to know more about how QED can help you? Please call us 1300 817 662.